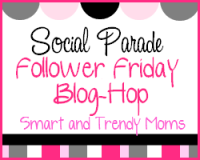 Smart and Trendy Moms
. We created it for socializing and to get new followers, fans, subscribers, readers without feeling overwhelmed. Every week will be a new link-up that will focus on following blogs, getting new readers to your blog! We will have Wild Card week to focus on the other ways you engage people with your blog. Its about fun one follower,fan and reader at a time!
It's time for the Friday Blog-Hop....
Social Parade Followers Friday Blog-Hop is a weekly link-up hosted by
* Follow the blog in the first spot. I will follow all on the linky as time allows! All blogs participating must post about Social Parade every week.
* Link-up your blog post for "It's a Social Parade" that you made on your blog. See the F.A.Q and Updates for help
* Follow as many as you like commenting on their POST as you do so they can follow back!
* If you do not make a post and link that up, it is unlikely that someone will search around for a post to comment on.