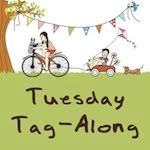 It is Tuesday Tag Along time again...so head on over to
Twee Poppets
to link up and meet some new blogging friends
Preschool Colors and Shapes Bingo
What is the best way to get your preschooler (I actually suggest this starting at 2 if your child is already doing ok with recognizing shapes and colors) to work on Numbers, Colors, Shapes, etc...? Make it fun.
I found this great product at Barnes and Noble and the best part is that it is only $6.25 at Barnes and noble.
There are a couple of reasons that I like it, but most of all you children will be learning while they think they are just playing. I am always in the market for games that can make learning fun and this is a great choice. Another benefit is that it is a great beginner game - it will help you little ones learn about following the rules and taking turns. Since they get to place a chip on the card with almost every spin they don't get distracted or bored. If you have children in the 2-4 age range I suggest trying out this game.