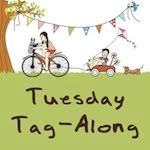 Come join Tuesday Tag Along hosted by
Twee Poppets
....This is a great way to discover new blogs while increasing the number of followers for your own blog.
Now onto the other part of my post...My baby cut three new teeth this weekend - yes 3!!! Poor Little Man. He is doing really well with them but has been biting like crazy on everything. He has been a little fussy but nowhere near what I would have expected with three teeth coming through.
Tooth count is now up to 5. This picture is from a few days ago - if you look closely you will see tooth number three on the bottom starting to poke through (it is really sticking out now) and the other two new ones are on the top but he wasn't allowing me to get a good picture.