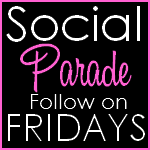 Well he actually turned 8 months this past weeked (but I am close, right?). I can't believe how much has changed in this last month. He changes so much everyday and wants no part of being a baby anymore - he doesn't want to be held at all anymore unless it is time for a bottle and even then he is squirming. He wants to be playing / rolling / sitting on the floor or running around in his walker.
He no longer topples over when sitting (unless his brother is involved) and he can now reach for things, turn his body, play while sitting without losing his balance. He love's playing- and is so proud of himself when he does new things.
His favorite toys are:
His car (that makes noise when you press the top)
His keys (because anything that he can bite on is a good toy)
His Fisher Price Laugh and Learn Puppy (see more about why I love this toy here)and
he loves playing with his brothers dinosaurs...ALREADY - we are in trouble.
He is not quite crawling yet, though he gets on his hands and knees and moves. He likes do get up on his hands and knees and then dig his head into the ground to guide him around....I am not kidding - it looks painful to me. He also rolls and scoots so he gets where he is going without too much trouble.
He can stand holding onto things / people. When I am holding his hands he try's to let go but quickly realizes that he can't walk yet. When he is holding onto / leaning up against a person, table, etc he is very sturdy...he just does not have the balance yet - he wants to but he just doesn't.
Tooth count is now at 6, with at least one or two more about to pop through. The good thing about that is he is eating like a champ. We rarely give him a liquidy puree now (though I made some squash last week that was on the liquidy side) - veggies get pureed / mashed into thick puree's and as for fruit he eats most of it without us doing anything to it....he eats plums, peaches with blueberry with little to no preparation on our part and bananas get cut and he eats them in small bites and cherries get pitted and cut in half (apples and pear still usually get made into a sauce). He is eating puffs and cheerios without a problem and he tried meat (chicken) for the first time last weekend. He tried avocado again this month and was still not a fan of the consistency....though when he tried the guacamole (not a spicy one) he loved it - next time we get him avocado I am going to try to squeeze some lime on and see how he does with it.
New foods this month:
Meat (chicken)
Plums
Cheerio's
Real Oatmeal
Hummus

His favorie foods are:
Sweet Potato
Carrots
Plums
Peaches
Blueberries
His least favorite foods are:
Honestly he has done really well with food this month. There haven't really been any instances in which we gave him something that he refused to eat.
So that's the re-cap of what my little man has been up to this month and now here are some pictures....oh I almost forgot - he went to the beach for the first time this month too:
By the way I am newly on Twitter so be sure to follow me at MommyAdventure