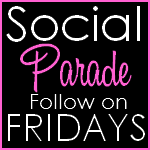 It is Friday again and that means that it is Time for the Firday Social Parade at
Smart and Trendy Moms
. Visit the Social Parade and link up.
and now for some Family Fun on a Budget
It is so expensive to go to a movie at the movie theater (around here it is about $11 for adults and $8 or so for children) so to just bring the 5 year old to see a movie if both my husband and I are going it is $30, and this doesn't include what you will spend on drinks, popcorn, candy, etc...once you are there. So my tip is watch your movies at home.
Family movie night is a great way to enjoy the fun things about going to the movies, without spending a ton of money..and for us it works great because we don't have to worry about who will babysit while we take the older guy to the movies. There are many ways that you can make a family movie night fun for everyone in the family - but here are my favorite tips.
1.) Let your children select the movie. Being at home can cause distraction that would not be involved if you were in a movie theater (other toys, games, etc...) but letting you child pick the movie will usually cause less distraction because it is a movie that they REALLY want to watch. If you have more than one child, allow them to take turns (child one picks this week, child two picks next week, etc...)
2.) Get Movie snacks. Make sure you have microwave popcorn (or store bought popcorn) in the house, pick up some of your childrens favorite candies / snacks (fruit snacks are a favorite in our hosue) and get your childs favorite drink - a special one that you don't let them have to often.
3.) Many times we do a fun dinner like make your own pizza that night too. This works perfect since pizza is a movie friendly food - you can let them eat their pizza while watching the movie.
4.) Take an intermission - when you are about halfway through the movie take a break (let your little one's go to the bathroom, get a new drink, maybe do a make your own sundae (depending on age and how much candy / popcorn they ate during the movie).
5.) Set up a blanket on the floor or cuddle up on the couch and enjoy your movie.
Not only do you get to have some movie fun with your little ones, but you can do it without spending too much money..