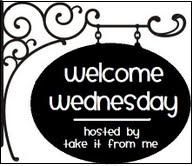 The
Fisher Price Laugh and Learn Puppy
is a favorite in our house. It was one of our 5 year old's favorite toys when he was a baby and now our little guy is loving it too. This has been such a big hit in our house that we have bought it for just about everyone we know who has had a baby.
This wonderful toy teaches your child to play games, sing songs, enjoy a ton of learning fun with this cuddly dog. This toy has two interactive play modes that will introduce your baby to A-B-Cs, 1-2-3's, colors, and parts of the body. This toy also sings some baby / toddler favorites along with your little one, including Itsy-Bitsy Spider, Pat-a-Cake, This Little Puppy Went to Market, and more.
Not only do they have an English version of this toy but they also have a
Spanish Laugh and Learn puppy
too.
A similar product that we have purchased when the
Fisher Price puppy
is not available is the Leap Frog
My Pal Scout
(the boy version) or
My Pal Violet
(the girl version) connect to the computer so you can customize the music and personalize the learning with your child's name and favorite food, animal and color. They also come with 5 pre-loaded songs, or you can select and download your choice of learning tunes and lullabies from an online list of 30 songs.